News
YARMOUTH REWINDS MEETS ALL YOUR SPECIALISTS HAZARDOUS AREA PANEL AND ENCLOSURE NEEDS!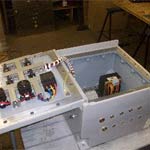 Yarmouth Rewinds now provides a custom built facility for hazardous area certified panels and enclosures. The explosion-proof enclosure range has ATEX, IECEx, RINA, KT and GOST certifications suitable for Zone 1, 2, 21 and 22 hazardous area applications. The products are based around high quality enclosures in the increased safety, intrinsic safety and flameproof protection classes. The range provides several different options of enclosure dependant upon the project and application and specification required with a variety of sizes and materials available including stainless steel, cast alloy and glass reinforced polyester (GRP).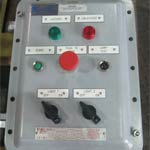 In addition to our custom build service we can also provide a repair and refurbishment of your existing hazardous area and safe area panels and enclosures as this sometimes can prove to be a more efficient and cost effective solution. The service includes verification and tracing of existing control panel wiring, commissioning, complete with a set of electronically produced drawings, which would reflect all upgrades or repairs. All hazardous area panels and enclosures will be repaired under our IECEx certified service facility repair license.

The enclosure came into us for a complete overhaul and recertification after being in use for a number of years. All the components including door components were removed. The enclosure was grit blasted and a 4-coat paint system was applied. All the flame paths were cleaned, measured and compared to the build standard. All female threads gauged and new door components were supplied and fitted. The unit was function tested and certificates were issued.
Mawdsley 700KW alternator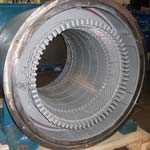 Mawdsley 700KW alternator, our engineers were called in to investigate and carry out a full overhaul and test of the alternator. The alternator has come into the workshop from a platform in the North Sea with reported vibration issues which has resulted in damage to the engine, in addition to this the bearing housings of the alternator were out of tolerance and the main stator leads had chaffed through. The rotor was set up and dynamically balanced to ISO grade G1, both bearing housings re-claimed and the leads re-insulated, alternator re-assembled using new bearings, tested and returned to platform.
Refurbished Heater Boxes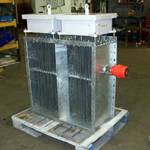 Pictured to the right are Eltron 2 x 15KW heater boxes suitable for use in a zone 1 area. These units were completely overhauled and refurbished using original manufacturer parts. We were able to refurbish the units faster and more cost efficiently than obtaining new replacement units which were not an exact fit and delivery times were an issue.
New Generator Package for North Sea Offshore Platform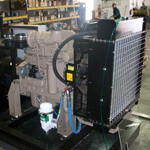 Yarmouth Rewinds are currently building a new generator package for an offshore platform in the Southern North Sea using a Cummins engine as the prime mover and a Marelli 132kw alternator, we are designing and building the control panels, installing wiring and engine management systems, on completion we will be commissioning, carrying out full load tests using our load banks.
New System Control Panel for Suffolk Farm
Yarmouth Rewinds has recently completed a motor control panel for a farm in Suffolk. The system and logic is controlled via a PLC to the customer requirements, controlling the motors for a mill and associated conveyor system.